Moldram's Ground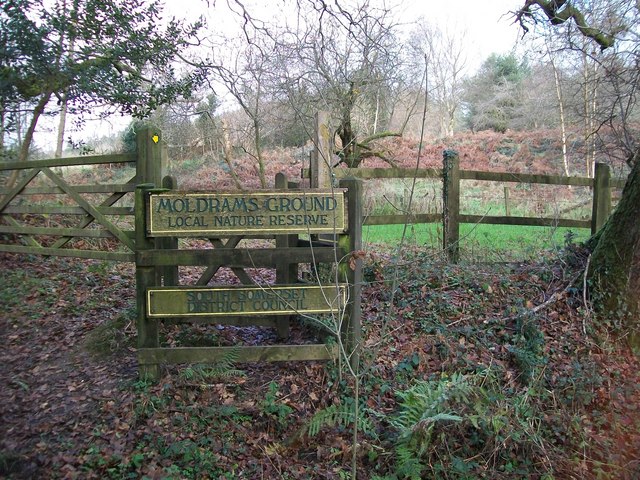 Moldram's Ground is a small, tranquil meadow and woodland nature reserve on the edge of Pen Selwood village north of the A303 east of Wincanton.
The reserve is a fine example of bog and unimproved grassland, surrounded by dry woodland - an increasingly rare habitat. A nature trail explores the site and identifies features of interest.
A free guide is available.
Moidrams Ground was designated as a local nature reserve in 1987 and is now managed as an important habitat for wildlife. The site can be explored by following the nature trail. Log seating has been provided. School parties are welcome to use the reserve.
Note: There is very limited parking available at the top gate to the reserve. You are advised to park at the Church and walk to the Reserve.

Please do not park in Marsh Lane and inconvenience local residents. Dogs are not permitted in the Reserve.
Ground Nature Reserve is tucked into the southwest slope of Pen Ridge which forms part of the border of the counties of Somerset and Wiltshire. This secretive site is only accessible from Marsh Lane leading from the village of Pen Selwood. This ancient settlement, whose name derives from Pen (a ridge) and Selwood (a wood of sallies or pussywillows) is where Kenwalh, King of the West Saxons, fought and defeated the Britons in 658AD.
Stourhead - National Trust house and gardens. Uncover the fascinating history of the Hoare family at Stourhead house, a majestic Palladian mansion home to a unique Regency library and fabulous collections of Chippendale furniture and paintings, set amid delightful lawns and parkland.
Stourhead is at the heart of a 2,650-acre estate where chalk downs, ancient woods and farmland are managed for nature conservation.
Longleat Safari Park - Longleat Safari Park, in Wiltshire was opened in 1966 and was the first drive-through safari park outside Africa.
Wells Cathedral - The present Cathedral was begun about 1175 on a new site to the north of an old minster church.
Bishop Reginald de Bohun brought the idea of a revolutionary architectural style from France, and Wells was the first English cathedral to be built entirely in this new Gothic style.
The first building phase took about eighty years, building from east to west, culminating in the magnificent West Front. About 300 of its original medieval statues remain: a glorious theatrical stone backdrop for feast day processions.
Sherborne - Sherborne is a beautiful town with an abundance of medieval buildings, superb Abbey, world famous Schools, picturesque Almshouse and two Castles. Sherborne is a busy business and market centre for a wide area. It still retains small and specialist businesses and has a delightful shopping centre with a large choice of handcrafted goods and elegant fashions. It has also become an important town in the region for Art and Antique Dealers. Excellent hotels and a variety of other good quality accommodation make Sherborne a fine centre for those wishing to explore the delightful and unspoilt Wessex area of Dorset, Somerset and Wiltshire.
Glastonbury Tor - This iconic and evocative landmark offers magnificent views of the Somerset Levels, Dorset, Wiltshire and Wales. Steeped in history and legend, excavations at the top of the Tor have revealed the plans of two superimposed churches of St Michael, of which only a 15th-century tower remains. Glastonbury Tor also has a grisly past. Abbot Richard Whiting was executed here in 1549 on the orders of Thomas Cromwell, the first Earl of Essex.
Glastonbury Tor is known as being one of the most spiritual sites in the country. Its pagan beliefs are still very much celebrated. It's a beautiful place to walk, unwind and relax.